Description
Hire @RockViju for Website Speed Optimization, Vijay Singh is really a Website Speed Optimization Expert
Do you want Rocket Speed for your slow website, we are experienced developers familiar with all slow loading defer JS, CSS, etc.
Why should I trust you?
Check our other delivered Projects –
Why? Price is least and best?
Because we are not a brand or agency, we don't have to pay rents, employees' salaries, etc. We've not many expenses as we believe in delivering quality work on time also.
Till now we've speed-up 60+ websites WordPress, eCommerce websites. We promised to optimize page speed score upto 90+ (can be 99 scores) and 85+ Yslow (can be 90+) score – Hire us for "Website Speed Optimization Service".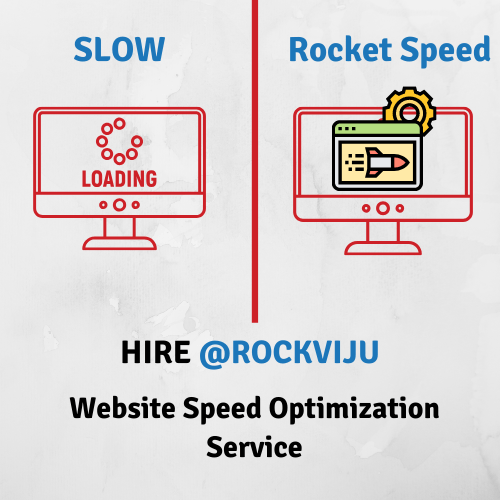 Hire @RockViju for Website Speed Optimization Service
Your website loads slow? Hire me for WordPress / eCommerce Website Speed Optimization Service. Sometimes speed optimization process can take 3 days. But mainly we deliver within 2 days.
What you'll get –
Rocket Speed 
Upto 90+ Speed Score
Upto 85+ Speed Score
Below 3 Sec. load time
70-75+ Speed Score for eCommerce Website
65-70+ YSlow Score for eCommerce Website
Below 4 Sec. load time for eCommerce Website
Permanent Solution, if you'll follow our Doc. after Project delivery
One time charge
Extra charges for Premium Plugins
I've already optimized 30+ WordPress and eCommerce Websites. I've hands-on experience in Website Speed Optimization. I can optimize the website speed upto 99% and load time below 1.5 sec. but things depend on many factors.
What do we need?
FTP Access
Website Access only
In this package, you can hire me for a Website Speed Optimization Service.
If you want a fresh eCommerce Website with a great design then you can go with Build an eCommerce Website Package.
Also, we offer to design WordPress from PSD/XD Designs, choose this plan to get Custom WordPress Design from Scratch PSD/XD.
Or you can get a simple 5-7 page WordPress Website with another package.