Confused, Why to Choose WordPress for Blog or Business?
Ohh, no worry, I'm here to help you.
I hope you already did some research on what WordPress is? Still, I'd like to tell you first some basic about WordPress because maybe some are not aware of What is WordPress and it's benefiting?
Or Maybe you confused with What is the difference between WordPress.com and WordPress.org? If you'd like to run a personal blog to do daily blogging, you can opt-in WordPress.com and have some standard plan.
Why to Choose WordPress for Blog?
WordPress.org is an Open Source Free CMS (Content Management System) used by 60% bloggers, businesses Worldwide.
WordPress is used by more than 60 million websites, including 33.6% of the top 10 million websites as of April 2019. Sources
WordPress is the most popular open-source CMS widely used by Bloggers and big companies. WordPress builds on PHP, and it's a contribution of many individual developers to make.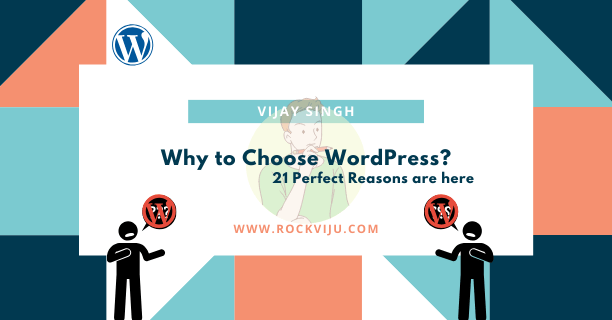 As every CMS system has pros and cons, besides a few disadvantages, WordPress has lots of benefits. You'll love it if you know the advantages of WordPress.
Well, the first advantage of WordPress is that you can use WordPress for any website. If you're asking yourself that Why Should I Choose WordPress for Website? then you'll find that I'm going to using WordPress because I can do start –
Personal Blog
Forum Website
Free & Premium Membership
For Selling Digital Products
Or for Selling Digital Services
eCommerce
Directory Submission
Image Sharing
Small Business
Chit-Chat Site
Social Website
Matrimonial Website
Portfolio
Photography – Image Gallery
Website for CV (Curriculum vitae)
Online Videos Streaming
Downloading – like Videos, Music, Docs
Etc.
There're many topics you can start with WordPress. If you don't know how to find a topic, you must read our beginner's guide article on "How to Choose a Profitable Blog Topic? 85 Best Blogging Ideas,".
21 Reasons for Why to Choose WordPress for Your Website
WordPress is one of the best CMS besides Joomla, Magento, CodeIgniter, Drupal, DotCMS, PrestaShop, Shopify, etc. Here you can find the complete list of CMS.
WordPress introduced in 27th May 2003, Matt Mullenweg is known as the father of WordPress, written in PHP language. As I said, WordPress is the contribution of some developers.
WordPress is free to use as it's an open-source, is also a good reason for Why to Choose WordPress? But still, you need a Hosting to Host WordPress. WordPress requires an environment to run i.e., Hosting.
I highly recommend to use Siteground to host your WordPress Website
At-least noted down of 100 blogs on a paper and found their contact information anyhow. Also, pre-write a format of your mail of collaboration/guest blog post so that you can send the same mail to all hundreds of blogs. Now, wait for the confirmation.
1. WordPress is Free to use
(Stupid Question) Do you use the Internet? You used that's why you're reading my article, but did you get free Internet, say No? Yes, you didn't. As you always pay for what you're using.
But here, WordPress is entirely free to use to run your Blog or Small Business Website. But you need hosting to run WordPress on a server. WordPress (CMS) is free is also a reason to Choose WordPress for blog or business.
Here you can Download the WordPress for Free – WordPress.Org/download. Here you can download the latest version of WordPress.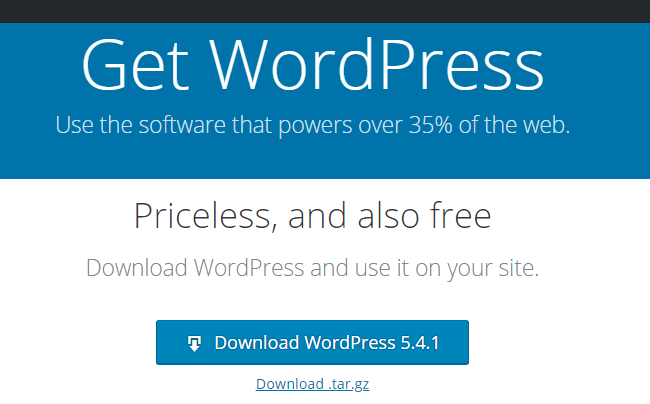 Also, you'll get free updates on WordPress on time as you go with. You can set WordPress for Manual or Automatic Update.
2. Adaptability
Adaptability? Let me explain. You can start using WordPress with any Niche/Topic. Before it was known by running a Blogging Website, then Choose WordPress for Blog it was being used at that time.
Nowadays, with their timely updates, WordPress has changed mind; no, WordPress is not only for blogging. If you'd like to run a Website for your store business, then Yes, you can go with WordPress. You can choose WordPress for Store Business, eCommerce, Selling Products, or Services.
3. Market of WordPress as compared to other CMS?
Very Good Question, What is the market of WordPress CMS as compared to other CMS like Drupal, Magento, Joomla?
Here I'm sharing a 7th June 2020 usage statistics report as of W3Techs i.e., WordPress is used by 37.2% of all the websites, a content management market share of 63.5%.
Rest, Shopify used by 2.4%, and the market share is 4.2.
Joomla used by 2.4%, and the market share is 4.1%. And Drupal used by 1.6% where the market share is 2.7%.
Sources – https://w3techs.com/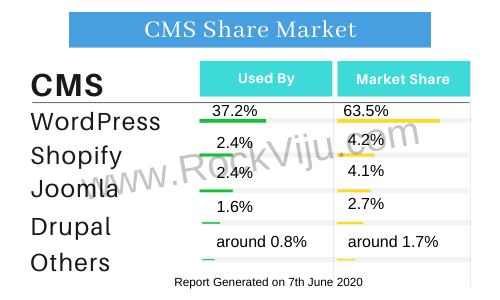 4. Single Click Installation
Many hosting providers, no no wait, Almost every provider now featured with Single Click WordPress Installation.
I'm recommending Why to Choose WordPress because almost every hosting provider is now featured with Single Click WordPress Installation, so if you're a beginner or newbie, then it is also an excellent reason to choosing a WordPress for Blog or Website.
5. Set Your Website Looks with Free & Paid Theme
Do you know how to design a Website with Code? No, ohk, Do you know how tough it is to Design with Code? I think you do a little bit.
Yes, Designing with coding is not easy, but in WordPress's case, it's quite easy to set your Blog or Website Look with Free or Paid themes.
With the Theme Options, you can easily customize various things on WordPress. You can Add Logo, Favicon Icon, Container Width, Navigation (Menu's), Footer, Copyright Footer Bar.
You can use both versions of WordPress Themes i.e., Free and Paid.
For Free Themes, You can check here and download – WordPress.org/Themes
But as these themes are free lite-weight with limited to use, it has limited options to use.
But there are many markets available selling Premium WordPress Themes –
What you'll get with the Premium Theme is Support, if you're running an eCommerce, etc. website then you need support to get sort of things, direct theme options featured in WordPress Backend.
You'll not get any support if you go with WordPress free Themes option. But still, you can do Google for your query, or you can Ask Me Here. I'm always up for Help.
6. Choose WordPress for Website Building
Yes, you already know that WordPress is used for building websites, but what about Custom Development, yes you can do custom.
Also, you can ask for help from Google, WordPress Support, StackOverFlow, etc. You can use your PHP skills to do Custom Website Development on WordPress.
Like many developers are building a Business owner's Website with Image (PSD) Designs or HTML's. They've added multiple functionalities on WordPress. Like I do Custom WordPress Theme Development (Freelancing).
7. WordPress Supports Multi-Languages
Do You Want to Target Your Business in Multi-Countries with their different-different Country Languages? Yes, you can do with WordPress, because WordPress Supports Multilingual. You can add any country language to your WordPress Website.
Let's say You want to Start selling Digital Services WordPress eCommerce Website Worldwide. Then you can add Italian, Russian, Arabic, etc Multi-language on your same single website. Isn't Cool?.
8. Friendly with All Search Engines
Yes, with the SEO Perspective can say WordPress is SEO (Search Engine Optimization) friendly. Quite comfortable with WordPress to Rank Blog, eCommerce with WordPress.
It's easy to use, and SEO Plugin featured, It is quite easy to rank your blog/ website in Search Engines is not so severe (as well as not so easy nowadays).
It's all because of WordPress Framework (CMS code's) makes it easy for crawlers to crawl your WordPress Website. Check What Matt Cutts Said About WordPress –
9. WordPress is Safe
Yes, All your website content, data will be Safe if your eCommerce or Blog running on WordPress. Don't worry about security WordPress's fully secure that's why it has a market share is 63.5%.
If you're or you'd like to choose WordPress for Blog or eCommerce / Business Website, then you can use two security Plugins –
You can ask me to Setup, if you need any help – Ping me through Contact Page.
10. Affordable
Yes, It is. Before we go ahead, check WordPress.com Plans.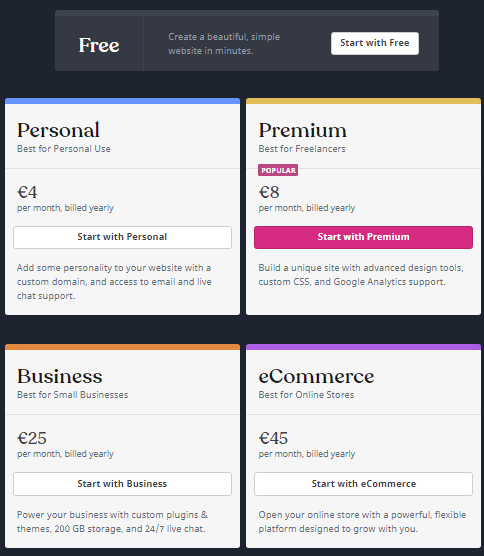 WordPress is free but it need a host to run. Hosting cost is around 4$ Per month or 60$ Per Year. Isn't Affordable?
Get Free Domain for First Year (Save Domain Cost) with Hosting @Bluehost
You can compare your WordPress cost with any CMS/platforms. You'll find that WordPress is more affordable than others CMS'.
11. Mobile Friendly
MobileGeAddon – When Google started awarding mobile-friendly, not only websites, even pages too. The significant advantage you'll find in WordPress that all themes are responsive for Mobile, Tablet, and Desktop versions.
As I said > Read to Go with WordPress, SEO Friendly, Yes, Mobile Friendly, a responsive website is also a ranking factor in SERP on all Search Engines like Google, Bing, etc.
12. No, WordPress is not for Blogs only
Yes, You can run any niche website on WordPress, as I've mentioned above, if you'd like to run an eCommerce website with WordPress, Go Ahead.
If you'd like to run a Forum, Community Website > Go Ahead.
You can run any Niche websites on WordPress, no limits. Just choose your Niche > Domain > Hosting > WordPress > Theme > Plugins > You done.
Check Out -> 11 Best Domain Name Generator Tools
13. Give More Functionality to Your Website
Yes, you can add more functionality to your existing WordPress Website is the best advantage you have. let's take an example –
I have a client come first with an Affiliate Website where he will affiliate Amazon, Basharacare.com, eBay, Letstango.com. I build the same on WordPress without Woo-Commerce. Now, after 6-8 months, he comes back with his new requirement that we want a Google / Facebook Registration Page at the homepage.

So, the user needs to sign-up or sign-in to view the homepage n all. Also, we wanted to add some of the products with the Payment Gateway. I just implemented all things on the same WordPress.
Hence, you can give more functionality to your WordPress Website using Plugins. You can install the use of plugins on your WordPress to add more functionality, etc.
14. WordPress Plugin Directory
With the help of WordPress Plugins, you can play to fill your needs. WordPress Plugins are core, an ecosystem of WordPress. There're tons of plugins available to fill your every type of requirement.
There is no need for any Coding, Programming Languages because Programmers or developers already make it easy for us to use Plugin, like with the Plugin Setting, the dashboard you can easily make the changes, and complete your needs.
Like you can use Plugins to build an eCommerce website or Directory Submission website or Chit-Chat or Forum or Dating Website, etc.
15. WordPress Supports Integration
Well, As far as I've worked for clients, building different websites and get experienced that WordPress has the best feature is Integration, you can easily integrate your PayPal to receive payment, etc.
You can easily use to Integrate WordPress with Mailchimp, Sendgrid, etc. to Opt-in Subscribers, etc. With the help of a variety of plugins, you can easily integrate your WordPress with third parties. WordPress also supports the integration of Social Media like Facebook, Twitter, Pinterest, LinkedIn, etc.
With this combination, isn't a reason to answer Why to Choose WordPress for Blog?
16. WordPress Supports All Media Format
Another big advantage I've seen in WordPress is that WordPress supports all media format as if you'd like to add different – different image format – (WordPress Accepted Image Formats)
.gif
.ico
.jpg
.png
.jpeg
If you'd like to add Audio Format – (WordPress Accepted Audio Formats)
If you'd like to add Video Format – (WordPress Accepted Video Formats)
.avi
.mpg
.ogv (Ogg)
.3gp (3GPP)
.3g2 (3GPP2)
.mov (QuickTime)
.mp4, .m4v (MPEG-4)
.wmv (Windows Media Video)
If you'd like to add Document Format – (WordPress Accepted Document Formats)
.pdf
.odt (Text File)
.xls, .xlsx (MS Excel File)
.doc, .docx (MS Word File)
.psd (Adobe Photoshop File)
.ppt, .pptx, .pps, .ppsx (MS PowerPoint File)
You can add any type of media that your would love to read, interested in and also you can embed the Document as well as Video's in your WordPress, isn't cool thing?
17. Optimize Your WordPress Website Load Time
Another perfect reason for choosing WordPress is load time; you can easily configure your WordPress Website to load in less than 1 second quickly.
You can WP-Rocket or W3 Total Cache plugins to load your website faster. And why this is the perfect reason because you can't do the same on other CMS as quick as on WordPress.
18. No need to Commit with one Host
Another Perfect reason for choosing WordPress for Your Blog Website is no need to commit to one hosting provider. You can switch your host immediately whenever you need it.
Like first you've on shared hosting, once your monthly traffic increased, then you can easily migrate to another host. Also, migration is effortless nowadays.
If you're migrating to Siteground, you can download the SiteGround Migrator plugin to migrate your WordPress website from one host to the siteground.
19. Keep Your Site Up to Date with CMS, Theme, and Plugins
Another advantage of using wordpress as CMS is you'll be up to date with WordPress (releases new updates on time), your theme, and your plugins.
Conventional means you'll be safe and secure because your WordPress website is up-to-date. You can also set to auto-update WordPress, Plugins, etc. or do manual updates whenever you need to.
20. Do Up-gradation Whenever You need
Get bored by using the same theme. Do you feel that your website look is outdated now? No worry, you're on WordPress, and the other perfect reason to Choose WordPress for Blog is to upgrade from older theme to a new theme with fresh layout n looks.
Isn't it cool?
I loved these things because I've seen many returning clients get back to me with a new theme that they want to upgrade their outdated look with a new one responsive theme.
21. Big Brands using WordPress
Still, you're asking > Why to Choose WordPress for Blog or Website or eCommerce?
There're big brands also using WordPress website.
Ohk, let me put the list of Top Brands using WordPress CMS –
You can visit to check Top 20 Big Brands, also using wordpress.
Hence, I think you got the answer for Why to Choose WordPress for Blog or eCommerce or Forum website. Also, I've listed the 21 Perfect Reasons to Choose WordPress for Blogging.
I hope you understand about What is WordPress and Benefits. With the above listed 21 Advantages of WordPress, you can start with Today without Ultimate Guide of – How to Start a WordPress Blog.
If this article helps then, please do share to help others to know about What is WordPress and what are advantages of using WordPress.
You can also start using WordPress to take all its benefits.
Thank You
#Stay_Safe