Description
Looking for hire someone to Convert HTML Website into WordPress or Convert HTML Website into eCommerce.
An experienced awarded freelancer @RockViju is here to help you.
Either we can go with same design, layout, content and convert your website in WordPress / eCommerce or change the design of your exiting HTML website.
Why? Price is least and best?
Because we are not a brand or agency, we don't have to pay rents, employees' salaries, etc. We've not many expenses, belief in to deliver quality work on time. As we've now more than 5 years of hands-on experience in "Convert HTML website into WordPress or convert HTML website into eCommerce".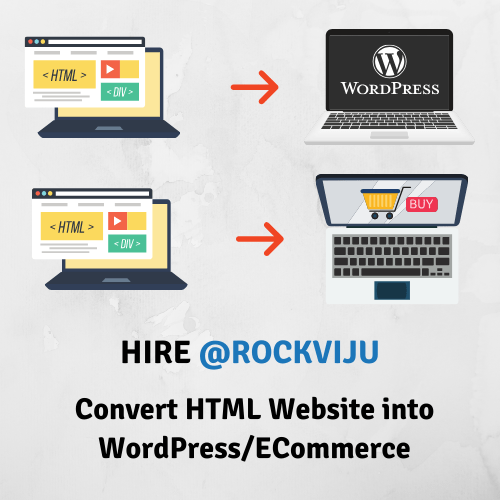 Hire @RockViju to Convert Your HTML Website into WordPress/eCommerce
Do you want to start a WordPress Blog or a simple WordPress Website for your Small Business?
If you already running an existing HTML static website then you can go with this pack. In this package, you'll get –
HTML Static Website into Dynamic 
Website Logo.
Basic Plugin Setup.
Website Favicon icon.
Basic Website Speed Optimization.
Professional Premium Theme (Pre-Activated)
PayPal Payment Gateway Setup (If eCommerce)
Responsive Website for Desktop, Tablet, and Mobile.
Or you can send the content, I'll set up content for you.
Basic SEO Optimization. (with Dummy or Provided Content)
Maximum 5 Products creation on WooCommerce (If eCommerce)
Easy to do changes with the help of front-end editing tools (page builder)
I'm familiar with Elementor, WP-Bakery, Divi Builder, Beaver Builder, Themify Builder. I'll customize your website with the default supported Page builder.
You can easily update the text, images, products, payment gateway, products images, etc. with the front-end editing tools.
In this package, you can hire me to Convert your HTML website into WordPress or eCommerce.
If you want a fresh eCommerce Website with a great design then you can go with Build an eCommerce Website Package.
Also, we offer to design WordPress from PSD/XD Designs, choose this plan to get Custom WordPress Design from Scratch PSD/XD.
Or you can get a simple 5-7 page WordPress Website with another package.